HOW DOES A PROFESSIONAL FACE BEAUTY CONSULTATION WORK?
We want to learn more about you, our consultation starts with a quick health check. We will discuss whether you have had any previous cosmetic procedures or facial health problems. Your doctor will assess your needs and answer any questions you may have. It is important that she understands your psychological motivation and finds the best solution for you.
Your doctor will then also examine your complexion using a special diagnostic machine. This will allow us to see exactly the changes that occur with age, the ratio of oily to dry to normal areas, pigmentation, the extent of sun damage and the functioning of blood vessels.
Once we have a full picture of your desires and the potential of your complexion, your doctor will outline a personalised treatment plan and we'll discuss the finances.
Anyone who already has minor wrinkles and wants to slow down the ageing process of the skin
Those who prefer natural solutions but want a firmer,more youthful complexion
Anyone with a facial skin condition or problem ,
Anyone who wants to reduce wrinklesand regain facial elasticity
Anyone who wants to fade scars, enlarged pores or pigment spots
A GLOWING, FIRM COMPLEXION IS IS NO LONGER JUST FOR THE YOUNG.
During the treatment, the heat from the end of the microneedle, the needle prick and the collagen-stimulating effect of the red LED light combine to cause skin renewal and stimulate collagen production. The micro-meshes tighten the skin, the heat makes the collagen fibres denser and the internal renewal process allows you to enjoy the effects for months.
With our facial rejuvenation treatments, you can get back a glowing, firm, youthful and rested face without pain or surgery.

GET YOUR COMPLEXION GLOW BACK THIS YEAR! HOW CAN YOU ACHIEVE IT?
Step 1: Sign up by filling in the form and come to our clinic to meet a facial skin specialist.
Step 2: During your consultation, we will assess your complexion, give you a personalised treatment plan and answer any questions you may have.
Step 3: Together, we will plan the course of treatment that will lead to the desired condition, and we will also carry out a proper health assessment, because we need to know exactly what could be causing any skin blemishes or problems.
Step 4: The mesotherapy facial treatment itself is 30 minutes long and is usually recommended to be repeated every 3 weeks. For the most perfect results, it is recommended to choose our 5+1 suitable passes.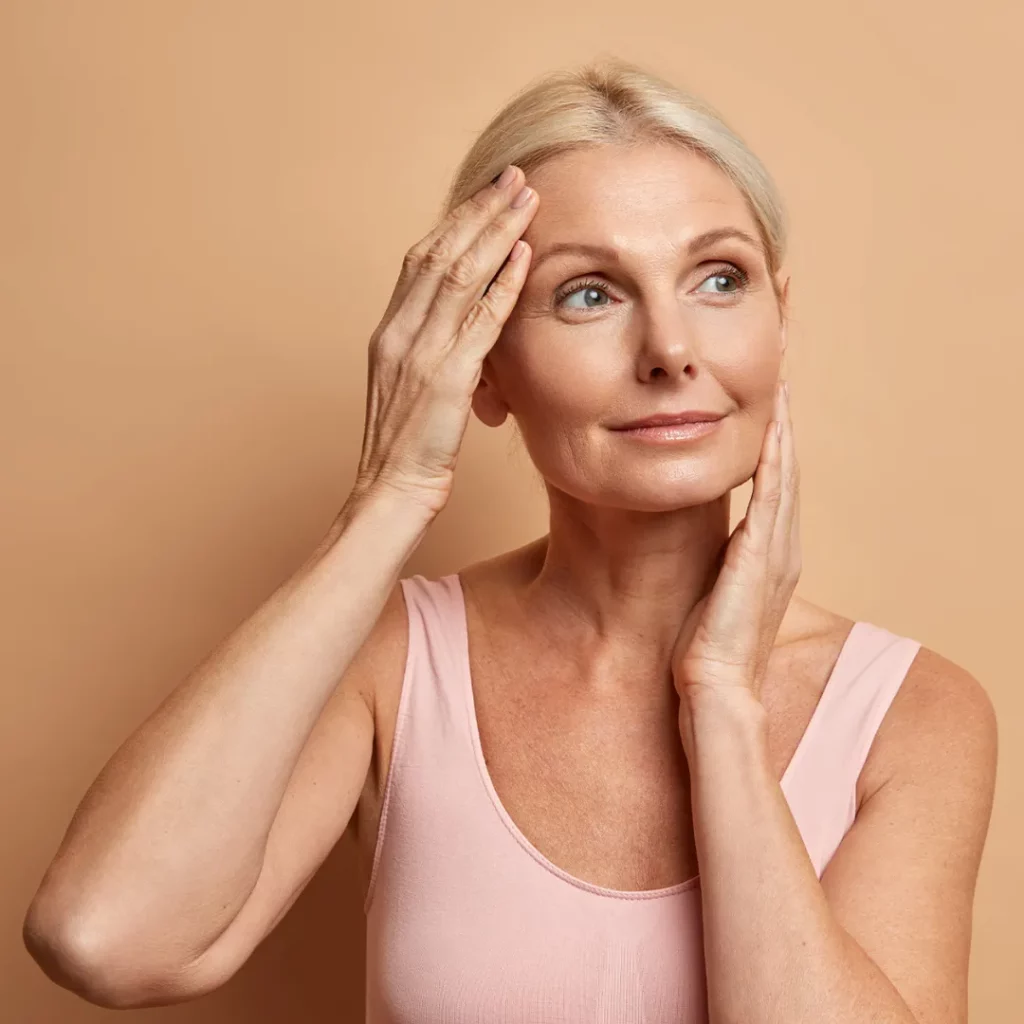 Who does the beauty consultation?
The assessment is carried out by a qualified doctor. This service has been available in the U.S. for many years, but is still new in Hungary. The doctors of our clinic participate in continuous professional training so that we can provide our patients with the highest level of professional knowledge.
Who performs mesotherapy facials?
The treatment is also carried out by a qualified doctor. A mesotherapy facial is 30 minutes long and is usually repeated every 3 weeks. For the best results, it is recommended to choose our 5+1 suitable passes.
What results can be achieved with this treatment?
Skin rejuvenation: slowing down skin ageing processes, skin tightening, wrinkle reduction, pigment spot fading, scars, dilated pores.
Mesotherapy is also an excellent hair treatment for hair loss due to deficiency diseases or hormonal problems. This service is also available at our clinic. 
The facial mesotherapy treatment can also be complemented with the neck and décolletage! You can ask about the price of this during your consultation.
How much does a beauty consultation cost?
The consultation fee is 5.000 Ft.
How much does the facial mesotherapy cost?
The price of the treatment:
30.900 Ft session; 154.500 Ft / 5+1 suitable pass